Using VoiceThread for Poetry Critiques
This is a guest post by Educator and VoiceThreader, Mary Ellen Davies.
De Pere, Wisconsin and Hillsborough, New Jersey are separated by 999 miles.  Without traffic, it would take over 14 hours to drive between these two towns.  Given this large geographical gap, it might be surprising to know that students from De Pere Middle School and Hillsborough Middle School spent 4 days reading and critiquing poems together.  With the help of VoiceThread, this asynchronous connection was possible.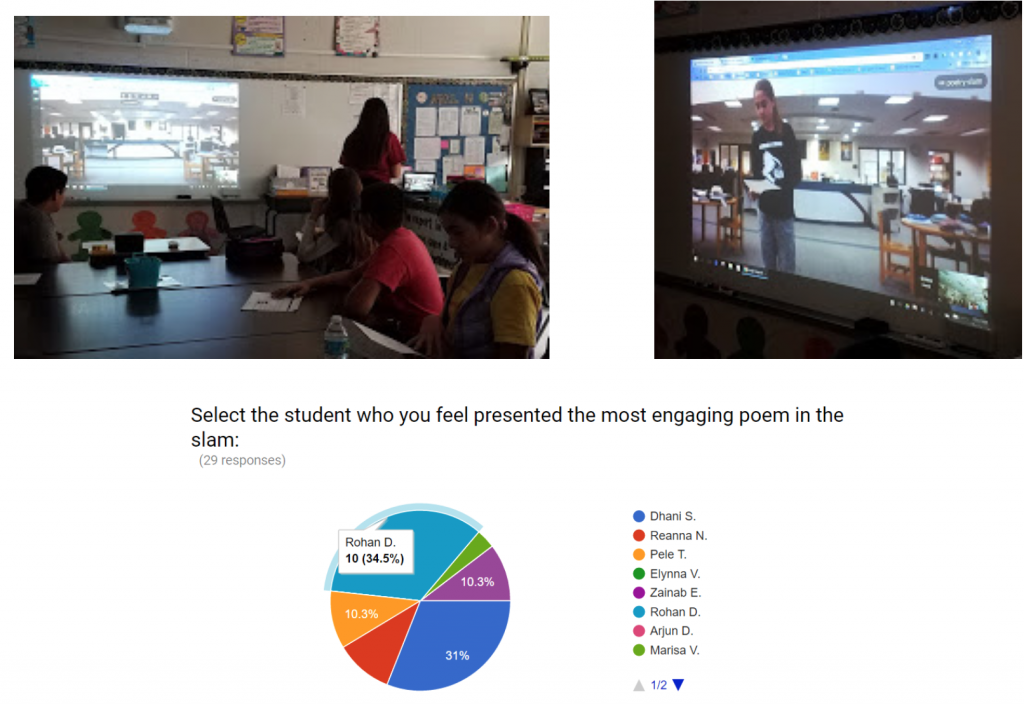 Donna Young, Library Media Specialist at De Pere Middle School, Jaime Hoffmeister, Literacy Teacher at Hillsborough Middle School, and Shauna Murray, Student Teacher at Hillsborough Middle School connected their classrooms through VoiceThread to share, read, and critique original poetry written by the students.  The students were able to publish original work to an authentic audience of their peers, even though that audience was 999 miles away.  This collaborative activity occurred asynchronously over 4 days and culminated in a live Poetry Slam using Google Hangouts.  Thirty-one students volunteered to share their poems live during the Slam, and each class voted for the most engaging performance.  A winner from each class was chosen using a Google Form complete with pictures of the performers.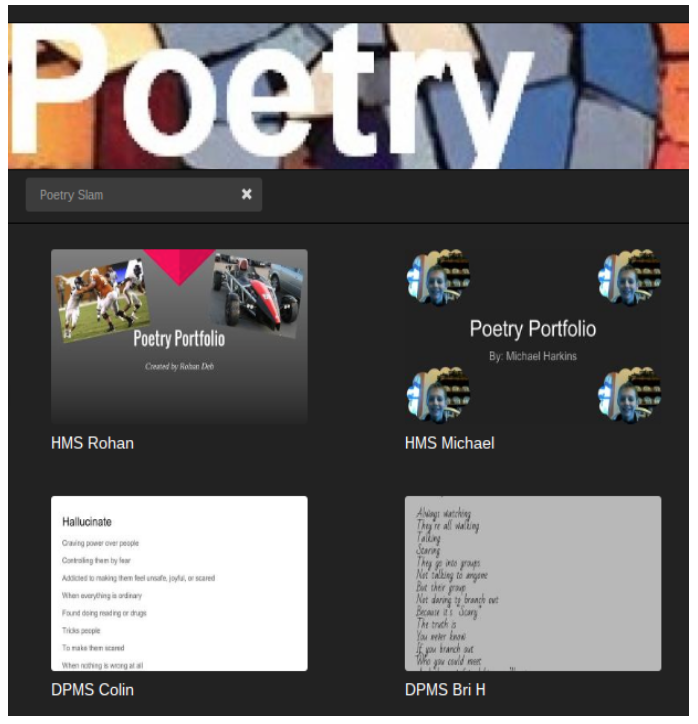 To make this connection possible, I created a VoiceThread group that students and teachers from both schools joined.  Then, the students uploaded PDF versions of their Poetry Portfolio Google Presentations and created VoiceThreads.  The students were required to read and comment on 10 poems authored by students in the other class.  The students spent one class period reading and commenting on the poems and another class period to listening to comments made on their own poems before making changes and corrections to their poems in Google Presentations.  The students also recorded themselves reading their poems out loud to practice fluency.
Most of the students utilized the text comment option in VoiceThread.  The students wrote thoughtful comments and made personal connections to the poets.  When the students recorded audio or video comments, they were able to use the pencil tool to highlight specific parts of the poem.  

Through the use of VoiceThread and Google tools, Jaime, Shauna, and Donna were able to engage their students in an activity that bridged a 999 mile gap to provide them with an authentic audience of their peers.  The students took pride in their poems, took pride in their comments during peer review, and took pride in their performances during the Slam.  
---
About the Author:
Mary Ellen Davies is a Computer Support Teacher at Hillsborough Middle School in Hillsborough, NJ. Prior to this, she taught German for 8 years. She is a VoiceThread Certified Educator.